By Rob Larimer
Colorado Springs artist Douglas Rouse has been busy.
The list of businesses and attractions that feature his murals is steadily growing. His work can be seen in the Garden of the Gods Visitors' Center and on the Warehouse restaurant in southwest downtown.
He's finishing work on a mural at Corepower Yoga and was recently commissioned to paint the foyer of the National Space Foundation's new headquarters.
Rouse, who works under the business name Rouse 66 (Rouse66.com), talked to the business journal this week about his work and the relationship between art and business.
What are some of the projects you've worked on around the city? What are you working on now?
I've created eight murals in the Garden of the Gods Visitor Center, one in the tunnel display cases at Seven Falls, in the main office of Bryan Construction, The Train Mural at 14 N. Sierra Madre St., one in collaboration with Imagination Celebration and high school students called "Antarctica," and of course, the Warehouse Restaurant building which comes under the category of the 12 Mural Project. Presently I'm putting finishing touches onto the second 12 Mural Project mural at Corepower Yoga at 623 N. Nevada Ave., and I have two Speed Painting events coming up at the end of January, one for the X-Games in Aspen and one taking place in San Diego.
Where are you from? What brought you to Colorado Springs?
I was born in Milwaukee, grew up in Kansas City, and moved to Colorado with my family the summer before my 10th grade year. I attended Air Academy High School and graduated in 1984. After high school I left for college and never thought I'd be back. But 17 years later I returned for a visit and ended up staying.
How and when did art become important to you, and when did you decide you'd make art your career?
I had a wonderful teacher at AAHS by the name of Pat Green who was a major support for me as an artist. After my experience with her I knew that I would someday be an artist as a career choice. While attending Arizona State University I designed t-shirts for many years, had odd jobs as a graphic designer (mind you this was all pre-computer) and waited tables for many years. But it wasn't until 1992, when I backpacked through Europe and eventually ended up staying and living in Germany for 9 years, that I declared myself as a professional artist. That was the birth of ROUSE 66.
It appears that more Springs businesses are embracing and supporting art. Do you believe this is true? What caused the change?
I have had a solid career in Colorado Springs since I arrived in 2001. My work ranged from architectural renderings and logo design to faux finishing and trompe'loeil murals and eventually to 3D chalk art, Speed Painting, and the 12 Mural Project. My feeling on the first part of this question is "yes" but I can really only speak for myself. And I believe, for me, it has to do with my versatility. But, since the global economic downturn I do also believe that people have started to embrace "local" and "more creative" things. Artists are problem solvers. Maybe that's what businesses are clueing in on.
How have you marketed yourself as an artist? Do you think artists generally struggle with marketing?
I've tried so many things, and despite not knowing if any of it works I've had a blast trying. I've tried mass postcard mailings, sent packets with photos and a mini-portfolio (in- and out-of-state), printed t-shirts, got a website, blog and Facebook account, had three art shows with the theme "Let's Make a Deal," in which people could play games and literally get artwork highly discounted or even for free), I've been participating in Denver's Chalk Art Festival since 2005 and others around the country, participated in many Artist Call-Outs for various projects around the country, donate artwork several years to Denver's Dine-n-Dart event, donate artwork to various causes in Colorado Springs, I've had an art auction, I tried selling faces on the Warehouse mural, and I've been very fortunate to have been in the papers or on television dozens of times since 2004 (that certainly helps). Most artists I know do struggle marketing themselves. Including myself. I'm ready for a manager! (This is a call-out by the way.)
Do you have any dream project you can tell us about?
Yes, and I even have an image to share. One of my dream projects, titled "Just Being Kids" (pictured below)  is a 50' sculpture of a little boy and girl flying a kite across barren land, not too far away from a highway. I want to give people who drive across our great country to have bursts of bewilderment and moments of disbelief as they pass something very familiar and dream-like. The sculpture would be way off in the distance but so large that it wouldn't make sense and would intrigue drivers to want to get closer. And my hopes would be that they could.I estimate this would cost $100,000-$200,000. (This is another call-out. Investors?)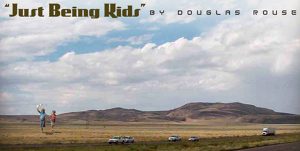 View article HERE